If you can dream it, you can live it.(Walt Disney)
Come as a guest,return as a friend
Honoring our legacy and continuing our tradition in hospitality
Hosting your best days for over 40 years
Hotel Sigalas is a small, friendly, family owned and operated hotel situated direct on the famous black beach of Kamari in the eastern part of Santorini. What started as an idea to make visitors of Santorini spend their stay in a warm and comfortable Guesthouse has evolved to a unique hospitality experience. Starting in 1967, Lefteris Sigalas decided to create one of the first B&B's on the island of Santorini, at the center of Kamari. As tourism begun to flourish on the island, Lefteris Sigalas with his sister Zambio took the next step and in the next years, the first Guesthouses were built on the Beach of Kamari in a quite ambience. Ten years passed and it was time to move on again with a new project. In 1977 Hotel Sigalas was created with just 12 rooms. Once more the doors were open and ready to accommodate guests in a traditional and friendly environment. As his family grew the hotel grew as well and year after year, with personal hard work and a lot of love, not only a business was established but also an institution! Reaching the early 00' the hotel, with the addition of a new member in the management, started a new Era with a full renovation and reconstruction of Hotel Sigalas to what we know today. Sticking to the initial idea, today, Hotel Sigalas is offering to all its guests a relaxing environment with elevated services.
A part of what we do is that we love taking care of our guests, recommending activities and helping them in any way. We can help you discover the best of Santorini island, but also make sure you're having a wonderful time right here with us.
In Hotel Sigalas you won't only be getting a beautiful cozy place to stay with friendly staff, you'll be getting an experience to remember for years to come. You'll be making memories and that is what Sigalas Hotel is all about.
Fresh water Pool 08:00-19:00
Breakfast a la cart 07:00-11:00
Restaurant 11:00-22:00
Pool Bar 11:00-24:00
Restaurant 11:00-16:30
Beach Shower
Sunbeds and parasols on the beach
Open space free of charge parking
Wi-Fi free of charge throughout the property
Reception 24 hours where you have
Multilingual staff
Tourist information
Wake up calls
Transfer / Taxi reservations
Safe Deposit Box in Reception free
Small library
Internet corner
Major credit cards accepted
Public bathroom with showers
Fully equipped first aid kit in reception
Sewing kit upon request in reception
Iron and iron board upon request
Luggage scale in reception
Electrical adaptors upon request
Electrical torches (flashlights) upon request
Maps of Santorini
Air conditioning
Safe deposit
Flat-screen satellite TV
Fridge
Tea-coffee facilities
Welcome package
(a bottle of water, instant coffee, tea, concentrated milk portions, sugar, sweets)
Telephone
Hairdryer
Shower and WC
Bathroom amenities
(shampoo, conditioner, shower gel, body lotion, soap, toothbrush set,
vanity kit, shoes shine wipes, loofah sponge, antibacterial hand wipes)
Bathrobe and slippers
Pillow menu
Change mattress type upon request
Extra fleece blankets
Beach bag with beach towels
Paper tissues box
Umbrella
Balcony or terrace with furniture
Our restaurant has been designed with a warm and contemporary feel, carefully designed to enable space. As the dining area is next to the pool on a terrace facing the endless blue of the Aegean, we have kept the traditional idea of a neighborhood yard, adjusting it to a quiet and relaxing ambience.
However, the most important aspect of our restaurant is the quality of food and service for both of which we are proud of. Our menu is based on the principles of using quality ingredients,
cooking fresh meals presented from our kitchen with care and attention.
In our A La Carte Menu there is a wide selection to choose from. We have a variety of Greek Mediterranean flavored dishes but also comfort food. From Meat to Spaghetti and from Fish to Vegetables,
we cook simple as we would do at home,
based on family recipes and local ingredients
Every day our restaurant offers a Special Dish of the day, a Soup of the day and a Vegetarian dish depending on what we find fresh on the Market.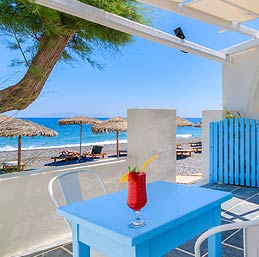 SPECIAL OFFERS
Thank you for choosing our hotel. We will be more than happy to welcome you!
At the moment there are no special offers available.
Please visit our website again or contact us by e –mail to find more about future offers at info@hotelsigalas.com